You can't use
select"+val(i)+".visible = true
, but you can use a Control Array.
A control array is an array of controls (groupboxes, buttons, etc.) that all have the same name but who each have a different
Index number
(the first control is Index 0, then 1, 2, 3, etc.) The Index number property is directly beneath the Name property in every control's property list in the window designer. Here's a screencap of what I mean: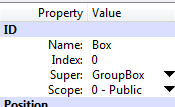 The index of the selected control is 0.
You can use a loop to interact with the controls in a control array provided you know in advance how many controls are in the array:
For

 i 

As

 

Integer

 = 

0

 

To

 

4

 

' assuming 5 GroupBox controls in the array


  SelectBox(i).Enabled = 

True




Next



For an example of using a control array, see:
http://docs.realsoftware.com/index.php/ ... On_The_Fly